Project governance and PMO
Allow us to govern your project
We act as a Project Management Office (PMO) to ensure your projects run smoothly
Project governance and PMO are two major aspects of project management. This set of practices and processes for effectively managing a project within an organisation have become intrinsic for the success of all your projects.
PROPRISM  is here to provide you with step by step support in the management of your project through the employment of solid skills, tools, advanced methods and dedicated software (Oracle Primavera P6, Oracle Primavera Cloud, Microsoft Project, Planisware…). Using a range of effective methods, we ensure that the quality and objectives of your project are achieved.
Project governance is our business: trust us to govern yours.
We act as a Project Management Office (PMO) to ensure your projects run smoothly. Whether it's the pharmaceutical, chemical, energy, marine, construction, transport and infrastructure or engineering industries, we operate in a wide range of sectors and possess solid experience in each.
PROPRISM manages all your projects, project portfolios and programmes for you through a team of project management experts. As a PMO manager, we help you to bring your projects to a successful conclusion while respecting all their specific constraints, such as budget and deadlines. Coordinating the various stakeholders, defining strategic and operational objectives, making decisions… We work together to ensure the success of the project you want to execute.
Defining governance and strategic objectives
To ensure your project goes without a hitch, it is essential to concentrate your efforts on the three pillars of project management: rigorous planning, effective steering and informed decision-making.
In order to determine the governance to be adopted, PROPRISM helps you to define your strategic objectives, which will need to be aligned with your organisation's overall strategy to ensure consistency between all the initiatives undertaken. We take into account the different strategic orientations and stakeholders involved to offer you precise planning with the aim of defining clear and measurable objectives, as well as the actions to be undertaken and the necessary resources to be used.
PROPRISM thus supports you throughout the entire management cycle of all your projects and programmes, including validation stages, project creation and termination decisions, and all with the objective of continuous improvement.
As PMO, our role is to define the tasks and responsibilities of the project, to manage priorities according to the budgets and deadlines imposed for the deliverables, as well as also being involved in project monitoring and reporting (dashboard, cost monitoring, use of resources, etc.).
We ensure that project management is conducted in a streamlined and consistent manner throughout the organisation.
From the definition of the need to the implementation and monitoring, we support you in the implementation of your project portfolio management system: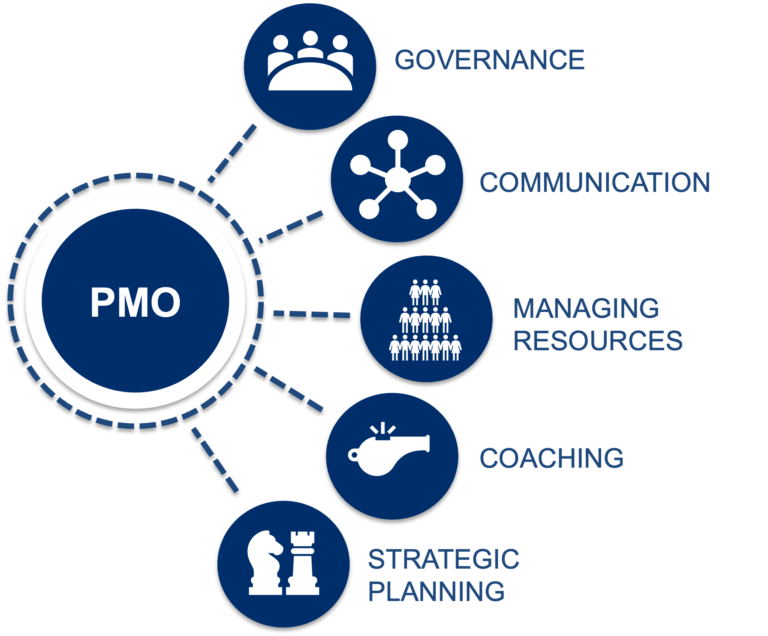 A PMO (Project Management Office) essentially conducts the orchestra. It is responsible for project management, ensuring planning, progress and steering, as well making sure that resources are allocated appropriately to minimise the chance of project failure.The skills of the PMO give greater visibility over the project and guarantee its success. It also plays a key role in formalising project management, developing methodologies and management tools tailored to the needs of the organisation to guarantee a coherent and effective approach.
The PMO implements processes and guidelines to standardise management practices and improve their efficiency. The PMO is able to manage a portfolio of projects, bringing together the various projects within the organisation in order to identify the dependencies between them, thus facilitating decision-making and resource management, as well as better prioritising them in line with strategic objectives.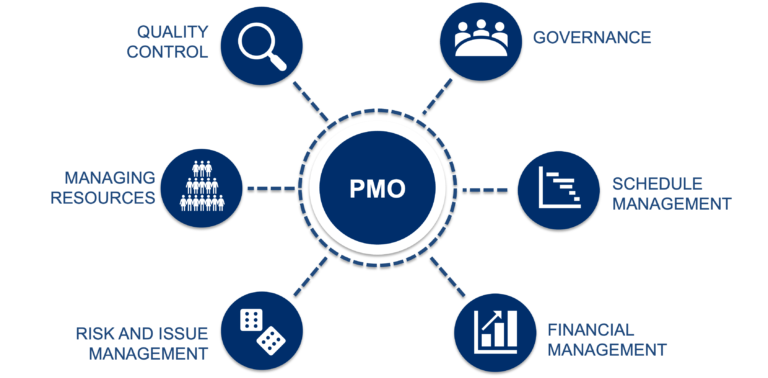 PROPRISM is a key player in the field of Project Management Office PMO. We can help you manage your project and participate at various levels. In short, the PMO will be essential in project management to:
Looking for a new challenge?
PROPRISM is first and foremost a team of project management experts available to serve YOUR projects.
Our in-depth industry knowledge and our mastery of the most advanced project management techniques (PMO, management, project planning & project monitoring software, etc.) make PROPRISM a strategic partner of choice for the execution of your most ambitious projects.
expertise in managing your projects
With many years of experience, our cross-sector skills based know-how is totally unique. 
Our team guarantees the success of all your projects on the basis of reliable forecasts, with no unpleasant surprises.