Project planning and monitoring
Monitor your project down to the smallest detail.
We offer you infallible project monitoring for robust and reliable planning.
The know-how of our team is at your disposal for the development of your schedules, as well as the analysis of the deadlines. We are involved in the tender phase and also during the execution of your projects.
In particular, we work with project tracking software Primavera P6, Oracle Primavera Cloud, MS Project, Project Online, TILOS and Planisware.
The critical path method, application of best practices, and delay risk analysis enable the development of a robust, flexible, and reliable schedule.
The schedule, an essential management tool in controlling your project deadlines
Controlling deadlines involves fundamental aspects: scope, resources, risks, controls and forecasts. Each of these aspects can lead to additional delays and costs. 
Especially with projects becoming ever more complex and often with limited budgets. 
The use of a planning tool is necessary and normally contractual.
The schedule is therefore a fundamental project monitoring tool to make sure your project runs smoothly. And it is essential that the person in charge of its development and implementation has the relevant experience.
Whether performing project planning in Primavera P6, MS-Project, TILOS or Planisware, mastery of techniques and best practices is important.
Need schedule development or to monitor a project?
The development of schedules involves working with project managers, discipline managers and contractors. 
We develop the schedule using the CPM (Critical Path Methodology) following a precise specification and current management methodology:
These elements allow for the development of a schedule that isreliable, robust and flexible.
Baseline planning and review to provide a seamless project tracking method
Schedules are the result of compiling information from many stakeholders.
The schedule review ensures that the schedule captures the entire scope and that it is ready for timeline tracking and progress measurement. It must also respect contractual constraints and milestones.
All parties must understand and agree with its contents.
We also assess the quality of the schedule in terms of sequences, resource allocation, critical path visibility and other items that must be delivered on time.
The schedule then becomes a reference and will be used to compare against progress and thus obtain the execution performance of the project.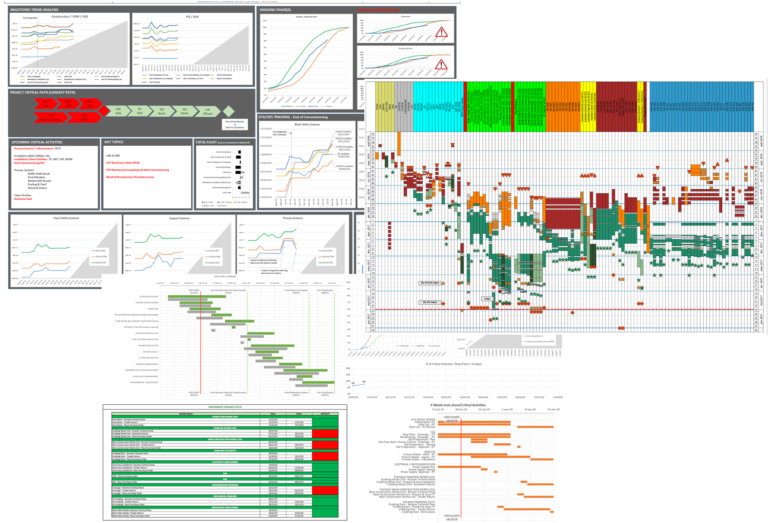 Updating progress during the project
By measuring progress throughout the project, we will alert management to any critical variations and risks of delay that may occur.
The analysis of progress highlights activities that need to be reinforced or closely monitored for the project to be successful.
Analysis of forecasts to limit the impact of delays and costs
After each progress update, we perform a detailed analysis on the potential impacts and assess the impact time and associated costs.
The analysis highlights sequences that require optimisation work to limit the impact caused by delays.
Synthesis planning: better coordination
We develop a summary schedule to facilitate coordination and communication. 
This specific planning includes the project phases, reference, progress and main milestones.
Looking for a new challenge?
PROPRISM is first and foremost a team of experts to serve your projects. 
Our in-depth industry knowledge and mastery of modern project management techniques make PROPRISM a strategic partner of choice in the development of your most ambitious projects.
expertise in managing your projects
With many years of experience, our cross-sector skills based know-how is totally unique. 
Our team guarantees the success of all your projects on the basis of reliable forecasts, with no unpleasant surprises.