Planning for control
and project monitoring
Monitor your project down to the smallest detail.
We offer you infallible project monitoring for robust and reliable planning.
Maintain control and monitor your project down to the smallest detail. 
Once the planning phase has begun, you need to keep a close eye on the progress of your project and ensure that its objectives are achieved.
Working alongside you, PROPRISM offers you unerring project monitoring for robust and reliable planning in your project management. We can help you collect and analyse the data you need to control your project. Doing this means you can measure your progress and performance, and adjust your planning if necessary.
We use advanced software that specialises in project planning and monitoring in order to support you in this process, such as Oracle Primavera P6, Oracle Primavera Cloud, Microsoft Project, Project Online, TILOS and Planisware.
Entrust this task to us and take advantage of our experience in project control and monitoring. 
Our project control and monitoring service is available to assist you in making the right decisions at the right time.Whether it's the pharmaceutical, chemical, energy, marine, construction, transport and infrastructure or engineering industries, we operate in a wide range of sectors and possess solid experience in each.
PROPRISM is at your disposal for the development of your schedules, as well as the analysis of the deadlines. We are involved in the tender phase, as well as during the execution of your projects.
Why entrust your project control and monitoring to PROPRISM?
In our view, project monitoring is an essential part of project management, as it ensures the success of every stage, from planning to delivery. As experts in project management, we support you and help you monitor the progress of your project using cutting-edge tools and methods. We measure the project's progress against the established schedule using dashboards and the various project management software packages we deploy. In this way, the various stakeholders can better visualise progress and identify any delays in advance, so that they can take corrective action to meet the schedule and bring about continuous improvement. Our work allows you to manage your project proactively.


Planning, an essential management tool in project monitoring to control deadlines
Controlling deadlines involves fundamental aspects: scope, resources, risks, controls and forecasts. Each of these aspects can lead to additional delays and costs. With increasingly complex projects  that often have restricted budgets, it represents an essential phase in project control and monitoring.
To do this,the use of a planning tool is necessary and normally contractual. While many tools exist on the project management market, it is essential that the person in charge of the project's development and implementation has the relevant experience. Whether project planning is carried out in Oracle Primavera P6, Oracle Primavera Could, Microsoft Project, TILOS or Planisware, mastery of techniques and best practices is fundamental. Thanks to a team of experts with mastery of critical paths, dashboards, Gantt charts, the application of best practices and time risk analysis,  PROPRISM allows you to develop a robust, flexible and reliable schedule.
A schedule is essential for effective project monitoring, enabling you to check the progress of the tasks set out in the project plan and the management of the resources that will make your project a success.
The development of schedules involves collaboration between project managers, discipline managers and contractors.At PROPRISM, we develop the schedule according to the CPM (Critical Path Methodology) by following precise specifications and an advanced  management methodology:


These elements enable the development of a suitable, solid and flexible schedule.
Control of the baseline schedule for perfect project monitoring
Schedules are the result of compiling information from many stakeholders.
Control  of the schedule makes it possible to be certain that it covers the entire scope and that it is ready for monitoring, compliance with deadlines and measurement of performance. It must also respect contractual constraints and milestones.
All stakeholders must understand and agree with its contents.
We also assess the quality of the schedule in terms of sequences, resource allocation, critical path visibility and other items that must be delivered on time. The schedule then becomes a reference and will be used to compare against progress, avoid delays, and thus attain the correct performance of the project.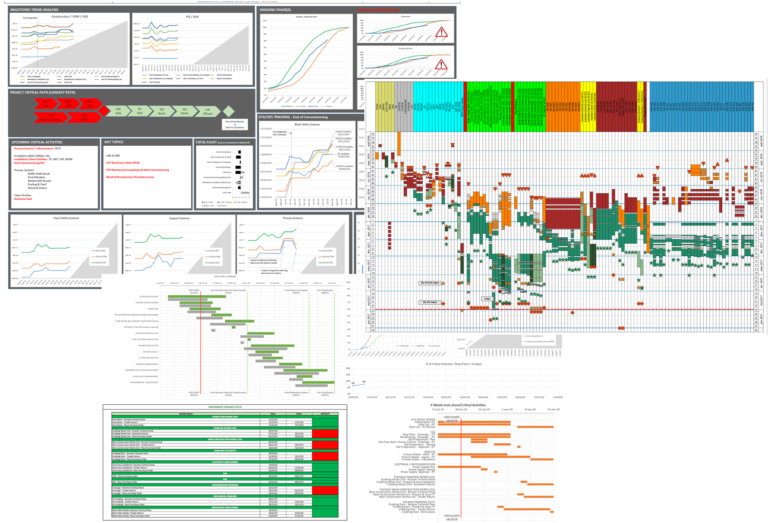 Update of the schedule during the project
By measuring progress throughout the project, we will alert management to any critical variations and risks of delay that may occur and would interfere with the success of the project.
The analysis of progress allows the workload to be adjusted, and the activities that need reinforcement or close monitoring to be highlighted in order to ensure the smooth running of the project and the production of deliverables within the deadlines.
Analysis of forecasts to limit the impact of delays and costs
After each progress update, PROPRISM carries out a detailed analysis of the possible impacts and evaluates the consequences, deadlines and associated costs. Generally speaking, we analyse the schedule, budgets and resources required, and compare them with the actual results obtained as the project progresses.
The analysis highlights sequences that require optimisation work to limit the impact caused by delays, to identify shortfalls and therefore form part of risk management.
Synthesis planning: better coordination
We develop a summary schedule to facilitate coordination and communication. The project tracking summary schedule concisely summarises the project phases, baseline, progress and the main milestones. This enables stakeholders to quickly understand where the project stands and what the key next steps are.
Looking for a new challenge?
PROPRISM is first and foremost a team of project management experts available to serve YOUR projects.
Our in-depth industry knowledge and our mastery of the most advanced project management techniques (PMO, management, project planning & project monitoring software, etc.) make PROPRISM a strategic partner of choice for the execution of your most ambitious projects.
expertise in managing your projects
With many years of experience, our cross-sector skills based know-how is totally unique. 
Our team guarantees the success of all your projects on the basis of reliable forecasts, with no unpleasant surprises.